Home > Practice Areas > Foodborne Illness
Foodborne Illness
Foodborne illness is very common, and usually completely preventable, occurrence in the United States. The Centers for Disease Control and Prevention (CDC) estimates that 76 million people suffer from food poisoning each year in the United States. Of that number, 325,000 are hospitalized and more than 5,000 die. In addition to this human injury, foodborne illness is costly. Some experts believe that food poisoning costs five to six billion dollars in direct medical expenses and lost productivity each year.
Foodborne illnesses are usually caused by eating food or drinking beverages that have been contaminated with bacteria, parasites, or viruses. Many bacteria are present on products when they are purchased or first prepared. Boneless chicken breasts and ground meat were obviously once par of live animals and if they were not properly slaughtered and cleaned, some bacteria may remain. The same is true for other raw meat, poultry, seafood, eggs, lettuce, spinach, tomatoes, sprouts, other vegetables and fruits. Further, clean food can become contaminated when handled with contaminated food or by food handlers with poor personal hygiene. Symptoms of foodborne illness vary. Symptoms of food poisoning range from an upset stomach to more serious symptoms such as diarrhea, fever, vomiting, abdominal cramps and dehydration. More serious complications can occur, however. Most foodborne infections are undiagnosed and unreported.
Foodborne illnesses are typically diagnosed by an examination of recently eaten food and from results of appropriate laboratory test. Appropriate diagnostic tests typically include examination of the feces. Treatment for mild cases of food poisoning includes antibiotics and increasing fluid intake. Sometimes hospitalization is required for nutritional and medical therapy.
Most cases of foodborne illnesses can be prevented. Proper cooking and processing of food kills bacteria and prevents the transmission of bacteria. Bacteria rapidly multiplies between 400° Fahrenheit and 140° Fahrenheit.
Are You a Victim of Food Poisoning?
If you think you are the victim of foodborne illness, the United States Department of Agriculture (USDA) recommends that you take the following steps:
Cargill Sued for E. coli Contaminated Meat
Cargill was this week slapped with an E coli lawsuit related to contaminated frozen ground beef products sold by the firm's Meat Solutions Corporation.
CDC Suspects 29 E. coli Cases Linked to Topps Beef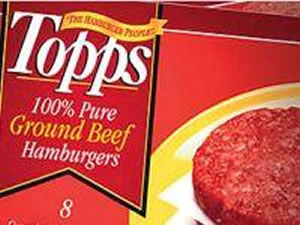 CHICAGO (Reuters) - The U.S. Centers for Disease Control and Prevention said 29 cases of E.coli illness are suspected to be linked to the 21.7 million lbs of recalled ground beef products from Topps Meat Company LLC.
ConAgra Peter Pan Peanut Butter Recall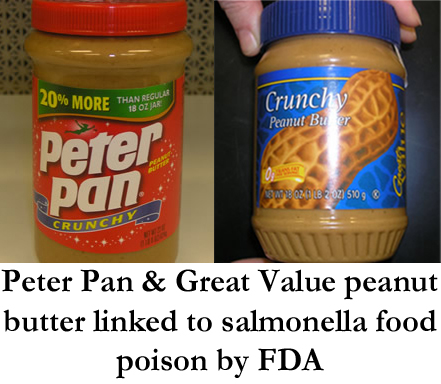 The Food and Drug Administration (FDA) is warning consumers not to eat Peter Pan peanut butter or Great Value peanut butter manufactured by ConAgra. The product code on the lids begin with "2111". The outbreak is ongoing and the first consumers were showing signs of salmonella in August 2006. Symptoms of food poisoning caused by salmonella include fever, diarrhea, vomiting and abdominal cramps.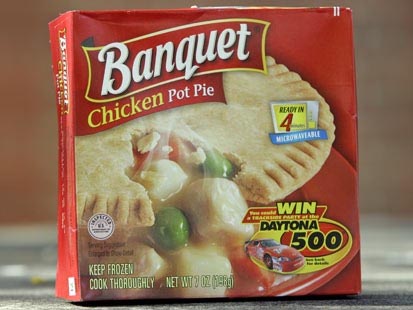 ConAgra Foods (CAG) is recalling all frozen pot pies made in the past two years amid a widening salmonella illness outbreak, it said Thursday night. That includes beef, chicken and turkey pot pies sold under the Banquet, Albertsons, Hill Country Fare, Food Lion, Great Value, Kirkwood, Kroger, Meijer and Western Family brands.
General Mills Recalls Pizzas Over Possible E. coli Contamination