Home > Practice Areas > Foodborne Illness > ConAgra Pot Pie Recall
ConAgra Pot Pie Recall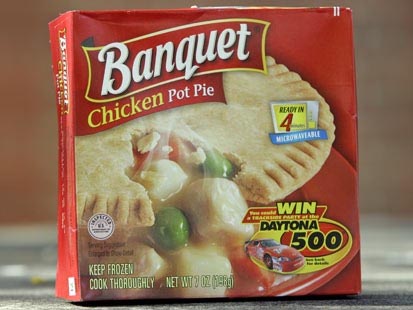 October 12, 2007
USA Today
Elizabeth Weise and Julie Schmit
ConAgra Foods (CAG) is recalling all frozen pot pies made in the past two years amid a widening salmonella illness outbreak, it said Thursday night.
That includes beef, chicken and turkey pot pies sold under the Banquet, Albertsons, Hill Country Fare, Food Lion, Great Value, Kirkwood, Kroger, Meijer and Western Family brands.
No figures for the volume of food that represented were available.
The pot pies, made at ConAgra's Marshall, Mo., plant, have been linked to an eight-month outbreak believed responsible for at least 165 cases of salmonellosis in 31 states as of Thursday. The Centers for Disease Control and Prevention said at least 20 people have been hospitalized as part of the outbreak, but no deaths have been reported.
The recall is to protect consumers and ensure that they "are clearly 100% getting the message that we do not want them to eat this product and want them to either discard it or return it to their store for a refund," said ConAgra spokeswoman Stephanie Childs.
The recall comes three days after ConAgra issued a consumer advisory telling customers not to eat its chicken and turkey pot pies. The U.S. Department of Agriculture first linked the outbreak to ConAgra's pot pies on Monday.
USDA investigators have been in the Marshall plant since then but have not been able to identify the source of the salmonella, said David Goldman of the USDA's Food Safety and Inspection Service.
ConAgra had previously suggested that consumers need only cook the pot pies according to the instructions to kill any bacteria.
All ConAgra's pot pies are made at the Marshall plant, which began producing microwavable frozen pot pies in 2005.
"We're recalling all of them, all ever made at that plant," said Childs.
"It's great that they choose to do it. But it should've happened earlier," said Neal Hooker, an associate professor of economics at Ohio State University, who has studied meat and poultry recalls.
Recalls are pricey. Research firm Gimme Credit said in a report last month that ConAgra has rung up costs of $80 million — about $20 million more than initial estimates — because of this year's Peter Pan peanut butter recall, also linked to salmonella. Peter Pan's annual sales run about $150 million. ConAgra resumed shipping Peter Pan peanut butter in August.
ConAgra Contacted About Pot Pies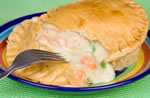 OMAHA, Neb. (AP) -- Several state health departments have told ConAgra Foods Inc. its Banquet pot pies may be linked to cases of salmonella, but the company said the pies are safe if they're cooked properly. ConAgra spokeswoman Stephanie Childs said Tuesday she didn't know how many health departments had contacted the company, which is working with officials to determine whether any additional precautions are necessary. No recall is being planned, she said.
Critics: ConAgra Mishandled Recall
OMAHA, Neb. (AP) — Critics say ConAgra Foods Inc.'s delay in recalling pot pies linked to a nationwide salmonella outbreak increased the chance that more people would become sick, opened up the company to greater liability, and exposed a key weakness in the nation's food safety system: voluntary recalls.
Wisconsin Officials Confirm Salmonella in Unopened Pot Pie
ConAgra Salmonella Pot Pie Plant Shuts Down
The ConAgra plant that produces the company's Banquet pot pies was closed yesterday among concerns of Salmonella contamination in Banquet chicken pot pies that had been manufactured in the plant. The Associated Press reported on the closure today:
---